The NYC Department of Health and Mental Hygiene takes on a poor, white, single-mom, smoker in a harsh black-and-white tv spot. An off-camera announcer essentially tells her to quit smoking or risk leaving her children without a parent. That's the latest spot, viewable in the New York/NJ/Connecticut market. The NYC Department of Health and Mental Hygiene has been running these in-your-face ads that press for healthy behavior change for awhile, but what's changing is that more places are pushing them as well. Proponents of the ads claim that shock gets people to pay attention and consider changing their ways. I am not addressing the ads that show diseased lungs or people on oxygen here.
I do not like this television spot at all. Yes, it's eye-catching, but so what? I don't think it is going to get poor, white, single-mom smokers to quit smoking. Besides, the spot is completely unsympathetic to the woman.
Fighting Smoking, Confronting Poor Single Moms
The television spot opens with a somber male authoritatively stating:
"Mrs. Wadley, I am sorry. You have cancer." You see an obviously poor white mom who must smoke, facing a harsh light, having trouble focusing. [Perhaps a harsh flash was used.]
The off-camera voice bellows: "What's worse than finding out you have cancer?" 
The camera shifts to the woman anxiously facing her children. Their backs are to us and in the foreground. Everyone is fidgety: the woman facing her two kids, and her children facing her.
[The answer] "Telling your children that you have cancer," states the announcer, who we never see.
For a second, the spot flashes on a list of resources to help you quit–thankfully.  Information flashes on and off so fast that any viewer would have to wait for the next spot to copy the information down.
The announcer sounds like a pompous creep and the woman is made to look like a parasite — as if she warrants a push to care for her children and not leave them without a parent.
Disclosure: I never smoked, but I recognize that cigarette smoking causes lung cancer, and that smoking can kill. I'd like to see interventions that work.
Shock Tactics
I don't know about you, but anyone who has tried to get me to change my lifestyle who attacks me, doesn't get very far. Many years ago, a doctor made a snide remark about my weight. When I left the doctor's office, I made a beeline for a hot fudge sundae. I had a neighbor once who was obese, who was bullied by neighborhood kids. As a result, he went on a crash diet, losing lots of weight. He told me that he was so mad that he wanted to show them he could do it. I wonder whether the weight loss was durable: it's hard to imagine that bullying would lead to healthy behavior change and better health outcomes. If it works, it is not the kind of society that I want to live in.
An ad campaign by Children's Health in Atlanta, Georgia,  featuring individual fat black and white kids, was yanked recently when the public objected to the strategy. I asked a few people for comment on these photos of 11-year-old children –isolated shots with each of them looking somewhat uncomfortable in their fat selves.
"At first, you look at it and you wonder if it is child abuse," emailed one person, responding to the photos in the CNN story linked to in the preceding paragraph. She has an obese adult child and continued: "We probably should have started earlier. Now it is too late." Another emailed me: "The ads are too harsh. If I were an obese child or youth, I would feel humiliated by them.  The ads also have the potential to give fodder to those who bully obese kids."
An interesting footnote: in Georgia, more positive role models showing kids exercising and eating healthier are now being used to reduce childhood obesity in Georgia.
Another NYC Department of Health spot features an obese black model with a photoshopped, amputated leg to drive home the point that, if you eat supersize portions, you could end up with diabetes and a leg amputation.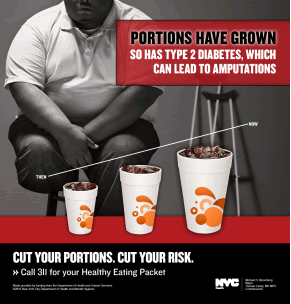 "
Even though subsequent news coverage focused on the identity of the model, whether he knew he was photoshopped, and the ethics of using actors and photoshop, I'd like to see evidence that ads like this really work,  do not cause harm, or worse still, backfire, leading to even more distrust of health authorities.
In the meantime, I have seen another approach: Michelle Obama competing in push-up challenges and potato sack races on television talk shows and on the White House lawn. I'd like to see more concerted efforts to get the poor and minority regular access to healthy, affordable food. I'd like to see more sympathy regarding the barriers to quitting smoking, eating health food, and exercising when you are poor and you have few options.
Admittedly, my litany here is not scientific.
Many people may think whatever it takes to get people to stop smoking, lose weight, and maintain a normal weight, it is worth it. I disagree. I'd like to see the science that backs these kinds of ad campaigns before they are disseminated any more widely. I don't think that shaming people who smoke or eat too much for their own good is an acceptable strategy. I can't believe that a stimulus like this is durable either. If ads like this really work and they don't harm, researchers ought to share the data. But so far, I just hear empty claims – no outcomes data, no follow-up. If people are motivated to quit smoking or adopt a healthier data as a result of the ads, where is the data?